How To Choose Free WordPress Theme for Your Business?
Free WordPress theme for a business website or personal portfolio? Are you typing this on Google search Bar and getting just content and nothing worthy!!!!!! As the internet is full of search-related queries and there is a lot of business WordPress theme available.
So, without further Ado – let's get to the point straightly.
We love WordPress- Of course, we all do! Right!!!?
If you also want to know which theme is to choose for your WordPress business website or which should not then-We have got you covered.
First, just read the quote we have shared here:
In WordPress, a free WordPress Theme where users can install the theme for free. We can say, without paying a single penny, the user can build a website.

For a beautiful theme you need to choose the best WordPress theme from WordPress.org
WordPress.org has many themes, nut before chooses any you should consider some points that your theme should have. Here, we are sharing some of these points. Find these points step by step below:
Best Business WordPress Theme Features
Features matter a lot while building a flexible business website. If a website is flexible and smooth like butter that means the business WordPress theme has strong bundle features and well content. Everyone wants to build a butter go the creamy website for his business.
Here are some of the features you will definitely get in a free theme and if not then you just walk away from the theme website.
Responsive
Social Sharing Features
Multiple pages style
Auto Update and Support
Plenty of Widgets
Theme Customization
SEO
Retina-Display Ready
Design Bundles
As these are the simple business WordPress theme features, that are available in free and paid both themes. So, never forget about the advanced also.
Plan a business WordPress website with Simple+Advanced Features. Always make sure that you're getting a combo of both where your website will get fast speed.
Know the Best Business WordPress Theme Features Deeply
We have shared the features of a simple business WordPress theme but you should also have a good understanding of these features. Know these features deeply with us. Here, we have explained each one by one: please take a look below.
Responsive:
Responsive is the first preference of designers, developers, and users also. so your theme should be count for the best free responsive WordPress theme.
What is Responsive? As the name says it all; Who response fast anytime and anywhere.
Example to make it more clear- suppose you are searching for a Free WordPress theme for business. Think where you will search this query from Mobile? Laptop? Desktop? Tablet? Or any other device? You will only visit that website where you can read properly and that suits your screen-This is all about responsiveness.
So, always make sure that the theme you are going to choose is completely Responsive.
Social Sharing Features:
Now, you will think about why social sharing features; because this is the main point where you can build a strong relationship between you and the user. By sharing the social profiles you are allowing users to know more about you. Hence, do check the social sharing features in the chosen theme.
Multiple Page Design:
Themes that have a one-page outline cannot cut it. Designers, developers and nearly all who create a website want pages that are optimized for specific user features – e-commerce, contact information, reviews or testimonials, blogs, and more. Thus, always go with the multiple page design WordPress Theme.
Regular Updates:
You should choose the theme where you will be able to update the theme as well. Your business site always needs some new updates.
Plenty of Widgets:
The inclusion of custom and customization widgets is one of the features that WordPress users love. Look for the free WordPress Theme that is offering plenty of widgets.
Know more WordPress Theme Features
Theme Customization:
Putting a site together using pre-designed themes can be simple and easy but many people want to add their own template, making customization important – simple style changes from type to color. If you are one of them who wants to add their own flavor then choose the customized one.
SEO:
One feature users don't really see is search engine optimization built into the WordPress theme. The number 1 plugin from the WordPress directory is the All in One SEO Pack, an indicator of how important this feature is when choosing a theme.
Why SEO feature is important for Free WordPress Theme?
Besides, when it comes to SEO optimization for topics, the topic you choose can have a huge impact.
Retina-Display Ready:
Retina Ready Theme will look amazing on any device. Not only will the images be sharp and crisp, but the fonts will be sharp as well.
Design Bundles:
Select the theme where you will get the bundle of themes.
WordPress Is Like a Hotel Management Team
So, in order to know what is the best Free WordPress Theme for Business Website; Let me walk through it.
Even if you've never worked in the management team, you likely already know that they have two parts to their business:
The front-end team
The back-end team
Although these are different areas within the business, you cannot have one without the other.
In any hotel/cafe, the back-end team is where all the delicious things are found. Customers who eat at the food point do not see this part, but if it is not present, there will be no way for them to get their food.
The front of the house, on the other hand, is where customers experience and appreciate the restaurant.
Atmosphere + good food and service = happy customers!
Furthermore, WordPress provides the brilliant back-end, and the WordPress theme is the front team.
List Of Best Free WordPress Theme for Business Website
Here, I am sharing only the top 5 business WordPress themes of 2020. I am not sharing the huge list of the themes, they are five and you can choose any of them for your business website. Let me tell you one thing that they all are the best of their own features. Besides, some are extremely highly SEO ready and some are ultra-responsive but you don't need to be worry install any theme from here.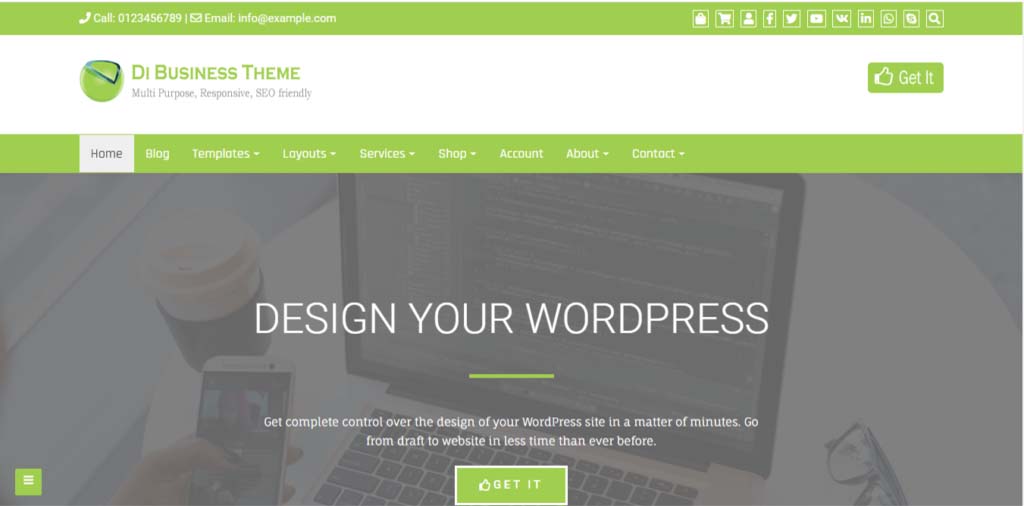 Di Business Theme, a super business free theme. You will get all the features that you need for your business website. Furthermore, you can install it free and get the paid like features such as ultra-responsive, 100% SEO friendly, more widgets, amazing fonts, speed optimized, great designs & more. No codding needed!!!
This is a theme that also comes in one of the best free WordPress themes. Idyllic offers some features for free. Therefore, if you are building a business website then this could also be a great choice.
You can use the Sydney theme for your business website if you want to build with a free theme. Also, they are offering some best features.
Zerif LITE is a free one page WordPress theme. It's perfect for web agency business, corporate business, personal and parallax business portfolio, photography sites and freelancer.
It is a visually striking WordPress theme packed with features and widgets to help you create a WordPress site. Allegiant works for all types of websites.