35+ Free One Page WordPress Themes 2020
Hunting for the WordPress free one page theme? You're in the right place. One page website is always in trend and favorite of developers. Here, I have shortlisted 35 one page WordPress Themes that are giving premium themes features- Yes, completely free. So, if you want to search for more then you can look for our best premium one page WordPress themes for all of 2020.
Do not worry! Just be relax and smartly check out one theme from the list of awesome themes-Install later.
List of Free One Page WordPress Themes
| S. No. | Theme | Type | Rating |
| --- | --- | --- | --- |
| 1 | Di Multipurpose | Multipurpose, Responsive, One Page | 100% |
| 2 | Hestia | Responsive, Multipurpose | 100% |
| 3 | Astra | One Page, Multipurpose | 100% |
| 4 | One Press | One Page, Responsive | 95% |
| 5 | One Page Express | Responsive, One Page | 99% |
| 6 | Be One Page | One Page, Multipurpose | 70% |
| 7 | Di Business | Business, One Page | 100% |
| 8 | Neve | One Page, Multipurpose | 100% |
| 9 | Zakra | Business, One Page | 100% |
| 10 | Freddo | One Page, Blog | 96% |
| 11 | Startup | Single Page, SEO ready | 100% |
| 12 | Di Responsive | Responsive, One Page | 100% |
| 13 | Himalayas | Parallax, One Page | 100% |
| 14 | Allegiant | One Page, Portfolio | 80% |
| 15 | Zita | Business, One Page | 100% |
| 16 | Minimable | One Page, Scroll Able | 95% |
| 17 | Gaga Lite | Responsive, One Page | 96% |
| 18 | One Page | Multipurpose, One Page | 95% |
| 19 | Limo | Responsive, One Page | 98% |
| 20 | Di Magazine | Magazine, One Page | 100% |
| 21 | Moesia | One Page, Business | 95% |
| 22 | Oneline Lite | One Page, bbPress | 80% |
| 23 | VW One Page | Business, One Page | 100% |
| 24 | SinglePage | Responsive, One Page | 70% |
| 25 | One Page Power | One Page, Consulting | 100% |
| 26 | Business One Page | One Page, Business | 100% |
| 27 | Safha One Page | Template, One Page | 100% |
| 28 | One Page Club | One Page, Agencies | 100% |
| 29 | One Page Eleven | One Page, Formatting | 100% |
| 30 | LZ One Page | Blogging, One Page | 100% |
| 31 | Vega | One Page, Responsive | 100% |
| 32 | Flexible One | One Page, Lite | 100% |
| 33 | News One | Magazine, One Page | 50% |
| 34 | Switch Lite | Business, One Page | 100% |
| 35 | Pixova Lite | One Page, Business | 80% |
| 36 | The Monday | Multipurpose, One Page | 95% |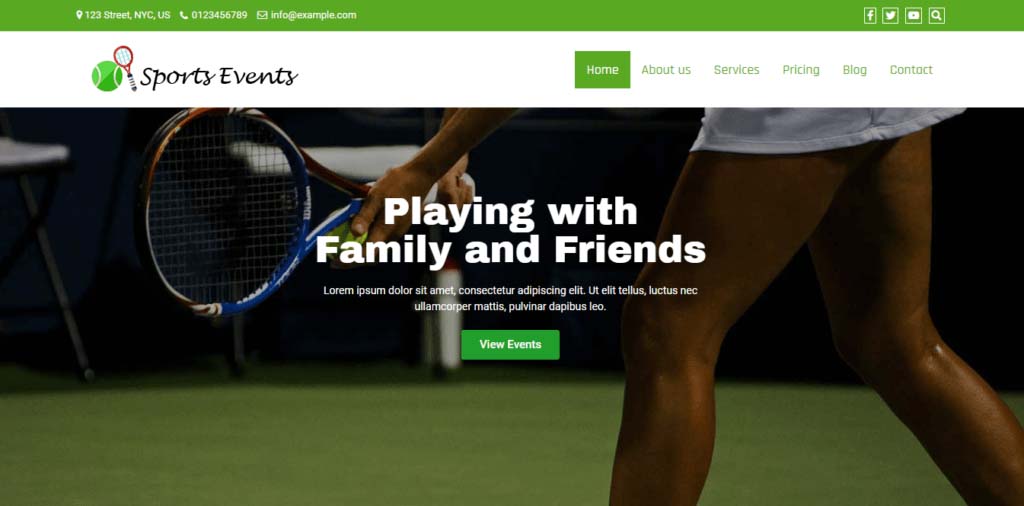 It is one page WordPress theme, Di multipurpose theme has something special for you. You can use this theme for any purpose whether you want it for business, magazine, foodie channel, blog or another purpose. First of all, it is absolutely free and the main reason Di Multipurpose has such an impact is that it takes such a short period to get your site to look professional. It is a one page solution where you will get a full-screen header image for grabbing attention. Besides, the header offers overlaying buttons and text to tell users about the site and push them to other parts of your platform. Di Multipurpose has a responsive layout so it looks great on all mobile devices. Also, the WordPress theme options are wonderful for customizing Google Fonts and colors, to create a beautiful branding environment.
Di Multipurpose offering translation, since people who don't speak your language will be able to read your content. Front page blocks are easy to drag, while parallax backgrounds are usually reserved for paid themes. You can choose between a static or slider header image. Along with social media buttons and an entire blog to help your SEO and push people to your new content. if you are looking for a one-page online brand? Then Di Multipurpose, a free one page WP theme should be on your preference list.
The Hestia WordPress theme offers a stunning free display, responsiveness, and a clean, one page look for startups and small enterprises. It has the ultimate features with WooCommerce integration. In addition, allowing webmasters to sell both physical and digital items online. Hestia theme clean and neat presentation will help with your sales, and you can also showcase your products on one page homepage. You can develop your content with just a drag and drop editor. Hence, there is no need to touch a single line of code. For instance, you can directly select an image, drop a slider, and carousel into the homepage. Besides, make sure you can take a look at real-time changes.
Looking for another feature (especially for a free theme) is the mega menu, making it much easier to build a large menu for your online store. This usually comes in handy when you have hundreds of products and categories, and if you want to expand on your one-page layout, you need it. Along with this, the user will get the translation settings and various custom backgrounds. We like the one-minute setup for both advanced developers and beginners. As a one-page theme, here you will get the various ready-made sections to create modules for team member profiles and testimonials. Another section has an area for users to subscribe to your email list, while some others include blog post features and contact information. Therefore, they also offer premium features WordPress page template, and it comes free.
The Astra theme, the best choice theme for you where you will get tons of ready-made demos. So what is exciting? The Astra theme is compatible with all popular page builder plugins, just choose your page builder plugin and import your chosen demo. Besides, Astra has a simple set up feature so that you set up your business website as quickly as possible. Also, it has plenty of sections to showcase everything your business has to offer. Even it offers ultimate features where you can use it for enterprise sites and portfolio websites.
The Astra theme offers easy customization. You can make your site as per your choice by matching your brand colors and fonts and upload your logo. This is a free WordPress theme that can be used for single page website. It is 100% responsive and speedy which will improve your SEO and deliver a good user experience. On top of that, the theme is SEO friendly, integrates with WooCommerce, and is translation-ready.
The One Press WordPress theme, another best option for free one page theme. One Press theme has decent reviews and users are very happy to download it. This beautiful and clean theme works well for portfolios, businesses, artists, and more. It has a professional layout and there is no need for technical knowledge of coding. It is the best one page WordPress theme for free.
However, it is an elegant design that supports WooCommerce. Thus, you can start selling your online products through your website and earn online. It's customizing option will guide users through your website in a reasonable trend. Here, you can upload high-resolution images and your brand logo.
One Press has a responsive layout, hence anyone can open up a mobile device and still read your content without any problems. Your readers will be able to read recent posts easily. If you're thinking about the Threaded comments? Then threaded comments are placed towards the end of each blog post, enabling people to get in contact with you and chat about what you have written. The One Press WordPress theme is completely free and simple to use. It is offering a translator like if you have some people come to your site who can't speak your language, they can still understand what you're saying. All these features considered, the One Press theme is an awesome option without a price tag.
The One Page Express WordPress theme is completely free, a one page theme with a high load approach. It offers templates just like the premium one page template, and you can download it for free in the WordPress themes directory. The main homepage consists of a large header image that overlaps with some content boxes. If you want to showcase your services then it's an ideal option for you. These WordPress theme features are beautiful and colorful, along with headers and buttons that go in front of the header image. The best part of One Page Express WordPress theme is that it provides free drag and drop editor. Hence, the average developer could make a professional one page website within a couple of minutes.
You will get many one page templates, but this one will allow you free customization. These customization modules are located in the drag and drop editor. The One Page Express theme comes fitted with a beautiful blog. Not to mention, you can display your own brand logo without doing much editing to it. The threaded comments improve the way you interact with your readers, while the translation-ready functionality could expand your audience quite a bit. Along with a custom menu, featured images, full-width template, and multiple sidebars, the One Page Express theme is one to keep your eye on.
If you want to promote your business with a simple one page WordPress free theme then the Be One Page theme is just for you. It is giving an amazing design with a wide variety of tools for promoting your business. As a beginner, this could be the best option from the list of free one page WordPress Themes. Besides, it is ideal for both advanced users and beginners. If you want a free landing page templates for WordPress site then you can go with this theme. It's completely cool that you don't have to pay a single penny to use it.
The Be One Page WordPress theme is 100% responsive, clean allowing for users to take out their phones and tablets to read your content. Its parallax images are scattered throughout the one page theme. Create an awesome portfolio and also you have a wonderful page for presenting your past work.
In this theme, you will receive an unlimited number of fonts and colors moving the brand strategy to the next height. If you purchase the premium theme of its then you will get friendly support. You may choose the premium one after testing the free if you want to. Not all free themes look like this one, as it boosts your search engine rankings and shows people that you are willing to give wonderful user experience. Showcase your services with icons and columns, and include online reviews in one of the many one page content rows. You can sell items and quickly create a contact page with the one page WordPress theme-Best themes collection. If you're interested in getting a site up and running fast, while also having the option for a premium upgrade, the Be One Page theme is certainly a choice to look into.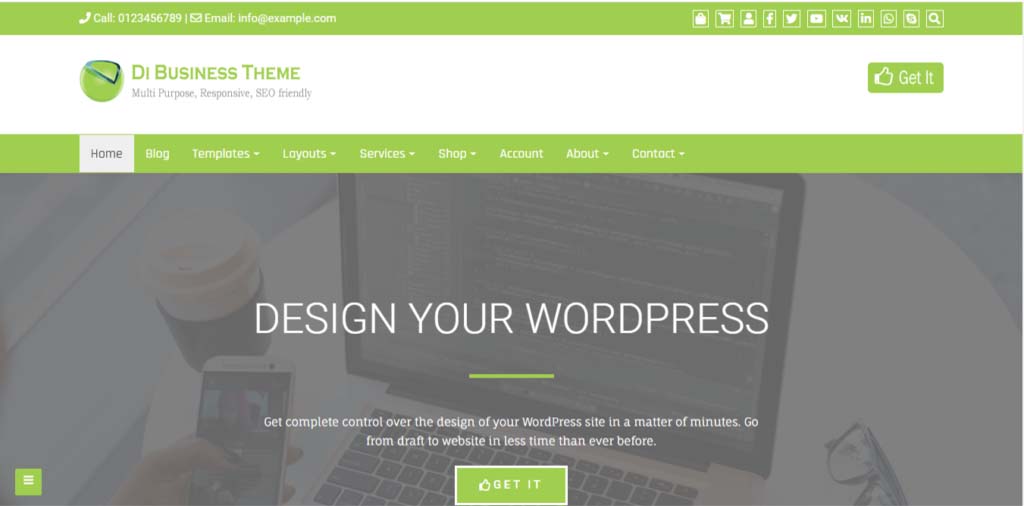 Need a business theme that really grabs every visitor's attention? Then Di Business by Di Themes would be a great choice for you. When I say business, I mean any type of enterprise that needs a strong visual brand presence that remains professional and sophisticated. So, think about any business and you will get the idea! Di Business- a free one page WordPress business theme.
Di Business is fully responsive, clean and offers a bundle of beautiful features. What I really love the most is how a user can select from more than different blocks to build a homepage that offers the features and content that make sense for your business firm. And, a parallax background image is included in each of these blocks, and they allow you to set their colors. Other features include a custom header, custom widgets, and a theme options panel. Di Business theme is a free WordPress themes and yes once again can be beautifully used as one page solution.
The Neve theme is a perfect one-page theme to choose from. You can avail of the features of the Neve theme to showcase your business details. Besides, you can also share testimonials, and showcase your team members' info. It also allows you to display your location and add a contact form for potential clients and customers to get in touch with you.
The Neve theme is very fast in loading, which when paired with one-page design, that can help you at SEO. The theme is ultra-responsive and customizable that beat almost all one page WordPress themes. You can change colors, fonts, upload your own logo, add a background image and more. You can create your own page as the theme integrates with Elementor and WooCommerce.
Do you have a small business, or want to create a landing page? Zakra theme is specially designed for these purposes. It is a template landing page WordPress free theme. The theme has an appealing look with a colorful design that supports two navigation areas in the header. You can use one for your main navigation and add links to your social media profiles to the other one. Here you can easily call to action, ass testimonials, images, form, and more. As more as offering free landing page templates for blogger, enterprise or designer.
As far as customization options go, this theme makes it easy to change colors and fonts to your liking. You can also upload your logo and customize the background with an image or use a solid color background. Zakra is a sensitive theme that you can rest assured that your website will look great on any device. In addition, Zakra works with Elementor and other major page builder plugins so you can create any layout you want. It is also Gutenberg compatible, SEO friendly, and ready for translation.
The Freddo theme is a modern one page WordPress theme that makes it easy to create a one page website-a Free themes. Here, don't need to do any coding and no need to use any page builders. The theme has a large above the fold area where you can add a short sentence to describe your business along with a call to action. You'll also find plenty of sections to describe your services, share information about your skills, and share your blog posts.
The theme is also easy to customize and you can easily change your colors, fonts, and upload your own logo. If you want to open an online shop on your website then you can do it easily with WooCommerce integration. The Freddo theme makes it easy to have a business blog as each post comes with a gorgeous featured image and support for a two-column layout. The theme is also fully responsive, supports Gutenberg, and is translation ready.
The Startup theme is the best free one page theme if you are just starting your business. Let's take a look at what you will get with this free theme:
10 homepage layouts.
Two ready made header layouts.
Heavily optimized for speed.
Modern and beautiful design.
100% responsive
SEO ready and schema integrated.
Compatible with Elementor and block editor.
If you're looking for the single page WordPress theme free download, then it's great to start with.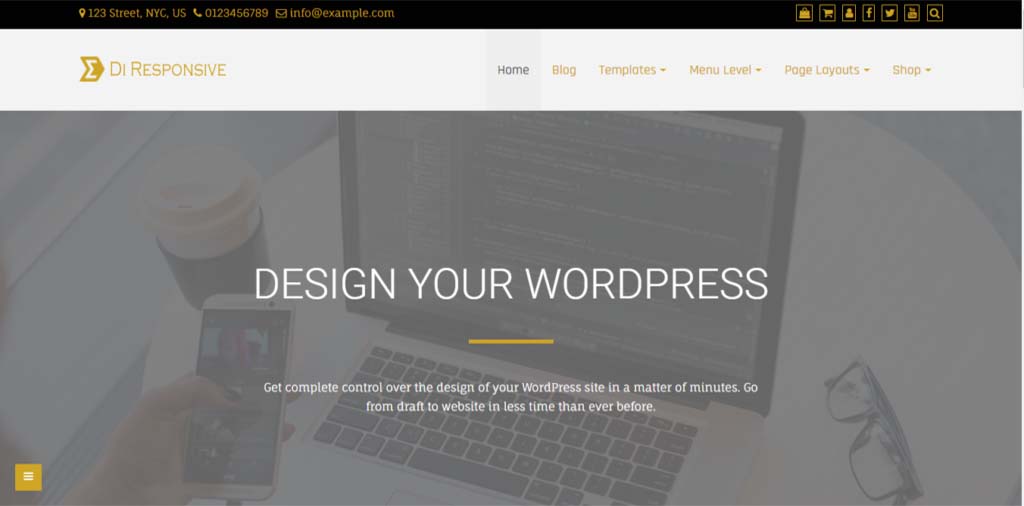 Di Responsive, one page theme for users who want an ultra-responsive theme. Here, the user will get free WordPress themes with sliders. As it is a free responsive one page WordPress theme, its layout that looks more like something you would generally have to pay for. The header provides both a slider and a static image format as the header begins with a list of features. You can download this WordPress one page responsive theme anytime for free. Live customize combines well with the Page Builder plugin for a drag and drop interface, while blog layouts add variety to those wanting to create a stunning blog. With a widget footer, you get access to many Google Fonts. You can manage all your fonts and colors on the admin panel, and you will be impressed by a large number of icons.
The theme delivers translation files so, that the target audience can understand your language also. You can also add thumbnails on your homepage to showcase news and headlines. As a one page theme, this solution comes with several rows for you to customize. It is a perfect theme for displaying logos of your clients, and for setting up a filterable portfolio.
The Himalayas is a free one page solution, parallax responsive WordPress theme. Inform all your visitors that they should know the correct one without the need to move from your home page to another page. The Himalayas can be used for many purposes like business, portfolio, corporate, agency, photography, freelancers and almost any kind of one page websites.
If you're thinking about a simple and free theme with a decent amount of features, Himalayas is worth a try.
Allegiant, get the whole one page theme package where you can beautifully explain about your working team and also tell how they contribute while working and also showcase client's testimonial modules on the homepage. The basic, neutral-looking theme has a companion plugin by the name of CPO Content Types. Besides, here you don't need to customize the homepage as the plugin allows for you to get all of these wonderful one page content modules. Showcase work complete portfolio for highlighting the best work your organization has done in the past. It's an ultra-responsive theme for when your potential clients come to the portfolio on a smartphone or tablet. In addition, you can easily share your services details/information with icons.
If you want a WooCommerce supported theme then it's a great option for you as the Allegiant theme integrates with WooCommerce. On another hand, we can say this one page WordPress theme is a WooCommerce free. Now turn your one page website into a full online store with this eCommerce plugin. Hence, if any user scrolls your website then he can straightly purchase anything from the homepage and also can check featured products and descriptions. Here, you will also get the Contact Form 7 and Yoast SEO which are completely compatible with the theme. You can download this theme without worrying about anything.
Finding a colorful and vibrant design theme? Choose the Zita theme. This theme is perfect for an agency, a small firm or a small business website. This theme will allow you to create sections for displaying your services, briefing company details, highlighting your skills and testimonials, and a contact form along with a map of your location. Share your portfolio pieces or your team's details.
You can customize fonts and colors as per your choice and you can also customize the layouts. The theme is responsive, translation and SEO ready. On top of that, the theme supports WooCommerce so you can easily sell digital and physical products from your website.
Minimable is a clean one-page & highly scroll able WordPress theme. You can describe to you each team member with amazing section features. Your gallery may appear as round images to be clicked for a closer look. It is stocked with portfolio, contacts and custom pages to do with your choice.
Therefore, you can freely customize the color scheme to better match your business brand.
Create a beautiful website quickly with the Gaga Lite theme features. It is a free one page option for one who wants to build a business website on one page. In addition, includes responsive modules for easy scanning on mobile tablets and phones. It also offers you to flash the upcoming features, product, or services through the full screen slider is one of the standout features. Its sticky menu is something that every one page website must-have, they are also offering a strong typography selection is a bonus, and
You can easily talk about your team with a featured homepage, tell about your company, explore your business branding tale and more.
The One Page theme is a multipurpose WordPress theme. It's all about individual pages, clearing out the clutter and helping people move around on a digital platform. Its responsive design assists with viewing on mobile devices, and the backed customize helps in changing colors, sliders, footers, logos, and more.
In addition, you can create a blog section where you can talk about your upcoming events, products or tools. Here, the user will also find the three menu layouts to know about where to go next on your website. You can create a quick fav-icon directly through the dashboard, and you can use the portfolio to display your recent project. Several calls to action modules are provided throughout the one-page design, enabling you to send people to other pages.
You can check the Limo theme if you want a one page solution with high scrolling. Limo is a completely free responsive theme for all smaller devices, large devices and it allows you to showcase your online services and products with a responsive carousel slider. Font Awesome icons are provided, making your site a bit more visual, and Contact Form 7 can be easily used to integrate a map and offer contact form fields to your customers.
The dynamic portfolio gallery runs smoothly, allowing you to upload images and older work pieces that you can use to impress potential clients. In addition, an editable pricing table comes packaged with the Limo theme, revealing an outline of what customers pay for when they opt for your services.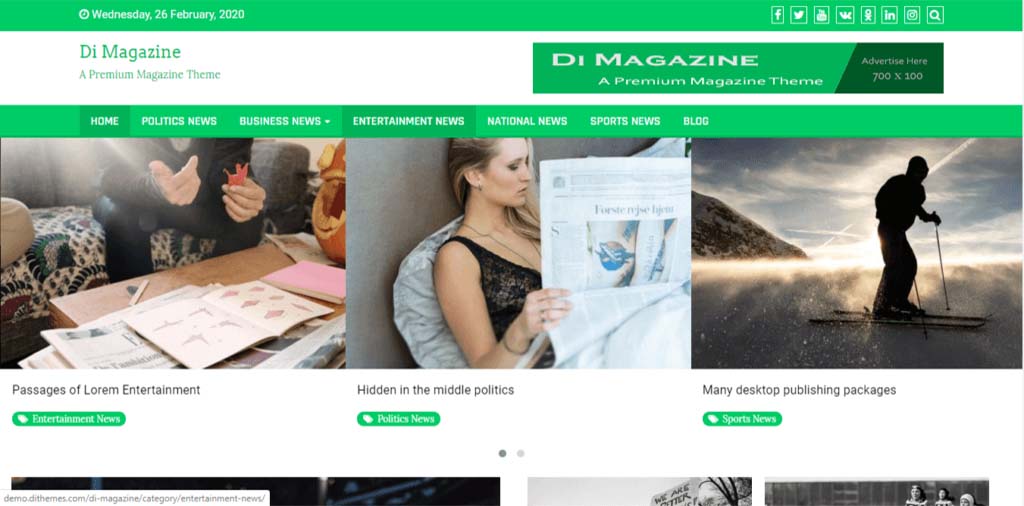 Di Magazine theme is a free one page theme, this is the best selection for magazines and news. If you have a magazine or blogging site then you must know that people nowadays will crawl your site not only from laptops & desktops but mostly mobiles & tablets. Thus, your site must be responsive to cover all the users using small devices. Di Magazine theme is an ultra-responsive one page theme.
The second most important thing is, your site needs to display news or posts in a systematic way that is easy to access in the eyes of your site visitors. Your magazine site should show all your titles, contents & pictures in a beautifully organized manner to grab readers. As today's trends reading an online magazine instead of physical magazines. Above all, it is also a snap selling torrent. So, if you have a magazine WordPress site which is not beautiful, not well-organized and not responsive then you should know your competitors are way ahead of you. If you want to move forward with time then you will need to use a WordPress magazine theme that is beautiful, well-organized and responsive.
This is our hand-picked responsive magazine WordPress theme of 2020 that is not only awesome but totally free. ?
Moesia is the one page business theme that you can use to build your presence online. Choose from eleven predefined blocks and build the homepage that best suits your company. Moesia offers amazing features and a collection of Google Fonts, two types of layouts for the blog page, cool animations and effects, a parallax header and much more. If you want to build an enterprise site then you can use this one page theme. Here, you will also get one page template free site.
The One line Lite as the name says it all, it comes one of free one page WordPress Themes and yes a lite theme. It is a very impressive free one page WordPress theme that's specially designed for designers, photographers, illustrators, bloggers, and any other creative professional. You can also use it for agency websites. The theme has plenty of sections for showcasing your services and past projects. You can avail of its WooCommerce integration feature to create your own online store.
The One line Lite theme is easy to customize and it is perfect for one pager online site. You can easily change fonts, colors, and upload logo, change background images and customize other visual aspects of your business site. For instance, you can create about me page by using this one page WordPress theme free. This theme can also be used for blogging purposes. Here you can easily share case studies and helpful posts for your audience. It's a responsive compatible theme with drag and drop Site Origin page builder, bbPress, WooCommerce, and other popular plugins.
This free one page WordPress theme is clean, attractive and minimally designed for business and corporate websites, landing pages, portfolios, blogs, and personal websites. Its beautifully designed layout is tailored to suit various businesses. Use its full potential by webmasters and WordPress novices without including it in the coding part. It is designed to respond to changing screen sizes with its fluid layout. It loads consistently on many browsers. If you want a landing page WP theme for free then choose this theme-This is Best Theme.
This theme can be translated into many local and foreign languages ​​to serve different demographics. This can divert traffic to your website with your SEO. It has a clean and secure code giving bug-free website. In addition, its compatibility with the latest WordPress version and its compliance with WordPress standards make it a strong business platform for a modern website. Although it does not have its own plugin, you can always integrate it with third-party plugins. Get your one page web design template free here.
One page is a responsive one page theme that can also be used for business purposes and as a landing page theme for your WordPress site free. You will find a multi-paged template for WordPress. Here, you can display all of your past projects and firm related details on the home page. One page theme is flexible, lightweight, clean and comes with a flat design. Create your own shop online for deeper integration with WooCommerce and it is fully customizable thanks to the panel of advanced options included. Create your website with one page template free.
Kick-off your online presence in style with Single Page, a free one-page consulting website template. The single page WordPress theme free download anytime from any browser. A striking, clean and contemporary layout that will positively influence all your visitors and turn them into potential customers. Users have the flexibility to create a website to suit their style with extensive theme options. Choose from four predefined sections and create the homepage that is best for your company, you can sort the section order by simply drag and drop with a cool panel. If you are looking for the one pager template then you can download it free here. Each of the homepage sections can have a parallax background image and its own set of colors.
Its a powerful multipurpose WordPress theme packed with lots of features, One Page Power is perfect for creating a full packaged website for business firms, restaurants, photographers, education firms and creative agencies. on the top, you can create an awesome single page website with animated content that adds charm to the website with an additional parallax effect. One Page Power is fully responsive, SEO friendly, translation ready and compatible with WooCommerce. This free WordPress static themes is 100% user-friendly and you can set up it easily for your one page site. One Page Power will help you to create a professional website for Business. heme contain seven widget area (Four for the footer, Two for sidebar (default pages) and one for shop page). The theme is compatible with WooCommerce, bbPress, Lead form builder, Contactform7 and many other WP plugin.
Business One Page is a free one page WordPress theme for business that can be used to create business and corporate websites. It offers an amazing feature that is a one-click demo import feature. It has a responsive design that shows very well in mobile and tablet devices. Besides, its SEO friendly feature makes it easy to find on Google and other search engines.
It is loaded with theme options and offers wonderful features to make a user-friendly, interactive and visually appealing websites. Besides, you can check out the features they are offering you: wonder one pager, advance slider options, portfolio and product showcase, team member, our services showcase, 2 clear Call to Action (C T A) buttons, social media, testimonials, contact details with contact form. Above all, it is a simple one page template free theme. You can also share your popular posts and recent posts on social media as offering 3 custom widgets. Therefore, the theme comes with translation and WooCommerce ready feature. Business One Page, where anyone can create a responsive, fast to load and mobile-friendly website compatible with all browsers and devices. It comes all in one one page responsive website template free-download it today.
Safha One Page is a clean WordPress theme that can be used for a variety of purpose, from a simple blog to a business site, Safha One Page theme will not let you down free one. This cool WordPress theme is made by folks at Theme seye. You can avail of its WordPress template landing page free.
Features:
Clean Design
Responsive Layout
WordPress themes one tone
Homepage Slider Theme Options Page
Supports Post Formats
HTML5 one page free
Custom Page Templates
Translation Ready
100% Free
Are you tired of striving the free one page WordPress Themes? A great and modern multipurpose theme for any kind of businesses, agencies, firms, startups, and so on. So, if you're looking for a clean and elegant look! then it's the right theme to go with. One page Club has a full-width slider, a one-page layout, and a friendly interface.
The theme has a responsive design, social link, a blog page, an easy contact form, a quick in-between-sections scrolling, SEO friendly code, and various customization options. You can get business one WordPress theme demo, today. This theme is also a translation-ready. You can download this WordPress one page theme for free and free theme backgrounds.
This theme also comes in a list of one page WordPress themes, it provides a convenient feature that enables you to add a specific image to your website free. It will serve as a signature logo for your website and will always emerge at the top of a website. This template also comes with an amazing custom navigation menu feature that allows the administrator to add any list of links anywhere on the site. It can be linked to internal resources, such as posts, pages, and archives, as well as links to external resources, such as your social profile page. Apart from the various options, you are using for website creation. Hence, this theme includes free WordPress pages and also lets you use the editor style. This option lets you work on it by previewing text, fonts, colors, and other elements.
In addition, you can set several sticky posts in the content to make it more popular on your website. The WordPress theme comes with a theme options panel that helps you create a beautiful website. Apart from this, you can also manage logos, fav-icons, colors, backgrounds, etc. through the theme options panel. This clear WordPress theme can be used by all international negotiators who conduct their business on a digital platform. You can use its responsive testimonial slider free & download easily. It promotes foreign trade transactions with the edge of multiple language support.
LZ One Page is a free WordPress theme that helps you in easily getting started with your blogging themes website. Hence, there is no restriction on uploading your blog you can upload personal or any other news related blogs on your website. This free WordPress theme offers you an amazing simple modification of the background of your website & sets it as per your requirements with the help of custom background option. Henceforth, you can select any color combination or an image for the background of your website. This is the best WordPress theme that supports custom color feature for applying any color scheme. Here, you can create your one page WordPress website with this HTML themes for free. Furthermore, it allows users to apply their selected colors on elements of the website. Choosing a custom header is an exclusive feature and is not available in every theme.
With this theme, you will be able to increase the number of users on your website. Besides, you will get the threaded comments where your readers can follow a discussion on a particular topic of your page via the comment section. Because they are offering the freedom to visitors to leave a reply to any existing comment directly. Here, you don't need to mention a single commentator like in global commenting. It is a multi-language supported WordPress theme that serves right for a number of websites. However, users can easily keep track of the international market. -Guys trust me this is the best feature they are offering. In addition, using a two-column format is an absolute choice if you have a handful of supplementary stuff to add to your website. You can use this layout for easily adding the objects like widgets, sidebars, descriptions, etc within your website
Vega is a clean, mild- responsive one-page business theme. This theme is very easy to use and can be easily used for blogging, build a business website, long landing pages, or any other creative website. However, if you want to choose Vega's theme to create your business website then I must say you will get a fast and easy experience. But, this multipurpose theme is built on the Bootstrap framework making it fully responsive and mobile-friendly. This one page theme is completely free and can also be used to set up a single page (one page) website. Get website one page template free Hence, it has animated content, three defined color choices (orange, blue, and green), text and image logo options, full-screen image banner, multiple home page displays, multiple blog feed displays, and custom CSS options.
Flexible One is a child theme of Flexible Lite-You can use it as one page portfolio WordPress themes free download. This is a very simple theme and fast in loading, this theme can be used for portfolio, blog section. Also, this is an Elegant & Creative One Page WordPress theme which has many powerful features to allow you to build websites very easily and unlimited your creativity to make impressed websites. Create your home page, about us, and contact us page for WordPress site today.
News one is a super Magazine WordPress theme. Thanks to WooCommerce Integration you can create your online store as it is compatible with the Elementor page builder. Besides, you can choose any of free One Page WordPress themes but this theme offers added custom widgets to make awesome news, magazine and blog website. However, it has more than 8 custom widgets, 6 different widget areas, customize based theme options and many more. Similarly, News One is a good theme to develop a new website or to refurbish the old one.
Features:
Bootstrap Compatible
Fully Responsive and SEO Friendly
Breadcrumb Options
Blog theme HTML free
Color Options
One Click Demo Import
Switch Lite comes in a modern and trendy best free one page WordPress themes list. This beautiful theme can be used for business, app, and social blog websites. It offering simple to use customization options that will enhance your website look and gives a professional layout to your website. This theme is compatible with Gutenberg, so you can easily design your posts using the given block editor. It offers creative HTML templates free download. Switch Lite has a clean & 100% simple fully responsive design that adapts nicely on all viewing devices. It is also compatible with WooCommerce.
Features:
WooCommerce Compatible
Gutenberg Ready
html5 responsive template one page
Responsive Design
Compatible with Elementor
Translation Ready
A modern design with clean lines and styling for a wide variety of content, exactly how a business design should be. Pixova is a one-page parallax theme, with excellent built-in functionality. For instance, you can add as many images as you want to the main header area, turn them into a slider.
The Monday
The Monday is an elegant single page WordPress theme that comes in the best free one page WordPress themes list. It has a beautiful design and user-friendly interface for full customization of the theme in an amazing way.
The Monday is the best multipurpose theme that is completely free and useful for any type and size of business, portfolio, and testimonial or blogging website. In addition, it is 100% optimized for SEO and compatibility with the major website browsers. Hence, it is one of the ultra-responsive themes in the WordPress themes responsive simple list.
Main features of The Monday:
One page parallax effects
Fully Customize based
Homepage sections
Simple and rich typography
Hope the article was helpful!!!! Let us know about the article or if you need any support comment below for free one page WordPress themes. Besides, you can feel free to check the updates.