Best WordPress Themes For Free 2020
A lot of free WordPress themes are available online. Yet it takes a lot of research to find a good and well-supported theme for free. We often come across some questions for making a choice. The concerns regarding the structure and compatibility of a free WordPress theme always revolves in our mind. Whether a theme is well built or if it is completely SEO friendly and supports the plugins; the questions of this sort.
Sometimes, the free WordPress themes are built by amateur developers and have very poor structure and compatibility. Obviously we do not want to break our website by installing this type of themes, hence it becomes really important that a free WordPress theme great looking and is compatible with the majority of the plugins.
While many people choose premium WordPress themes which guarantees a solid structure and unlimited support, they are not affordable by everyone. Fortunately, we have some free awesome looking themes which are not only good looking but also offer some premium functionality for free.
From one page website to an eCommerce website, free themes are available for all kind of websites. Without further discussions, let's go through some best free responsive WordPress themes. We hope, you find the one suitable for your website.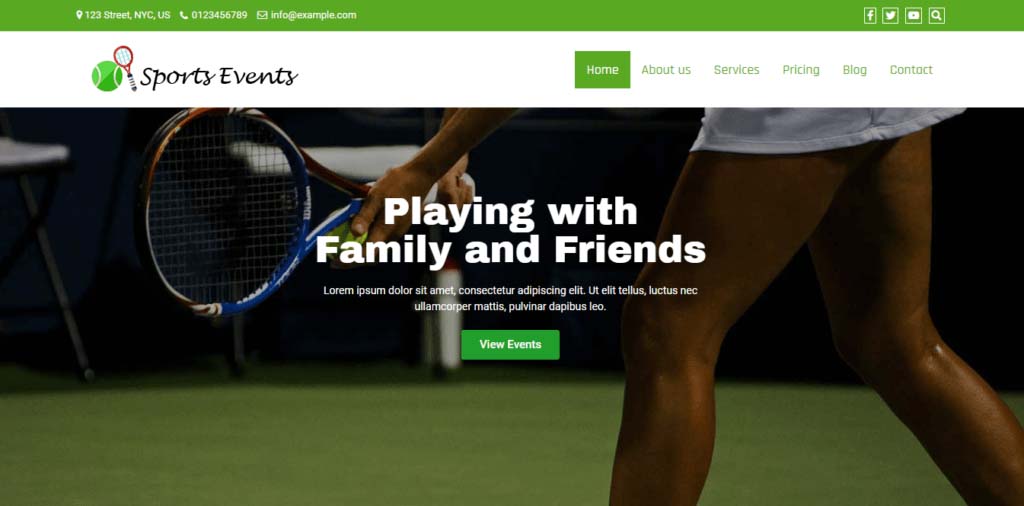 Di Multipurpose WordPress theme is the latest theme from Di Themes. It is completely responsive, has fast loading speed and offers a lot of customization options. You can choose from more than 10 header layouts and even 30+ demo websites. It is compatible with almost all the plugins available out there. WooCommerce integration is also achievable easily by this free multipurpose WordPress theme. With its advanced eCommerce features, you can easily choose which product you would like to show or hide. You can even easily enable or disable the product gallery.​
This free multipurpose WordPress theme is completely suitable for any kind of website. Whether you want to make a business, blog, online store, magazine or forum website, Di Multipurpose WordPress theme is a perfect fit. Di Multipurpose WordPress theme supports full Elementor Page Builder integration. With Di Multipurpose WordPress theme and Elementor combined, you can design beautiful and responsive websites easily. Elementor drag and drop feature integrates easily with this free multipurpose WordPress theme. The WooCommerce integration with Di Multipurpose WordPress Theme helps you start your online store so easily that you need not to worry about the development part.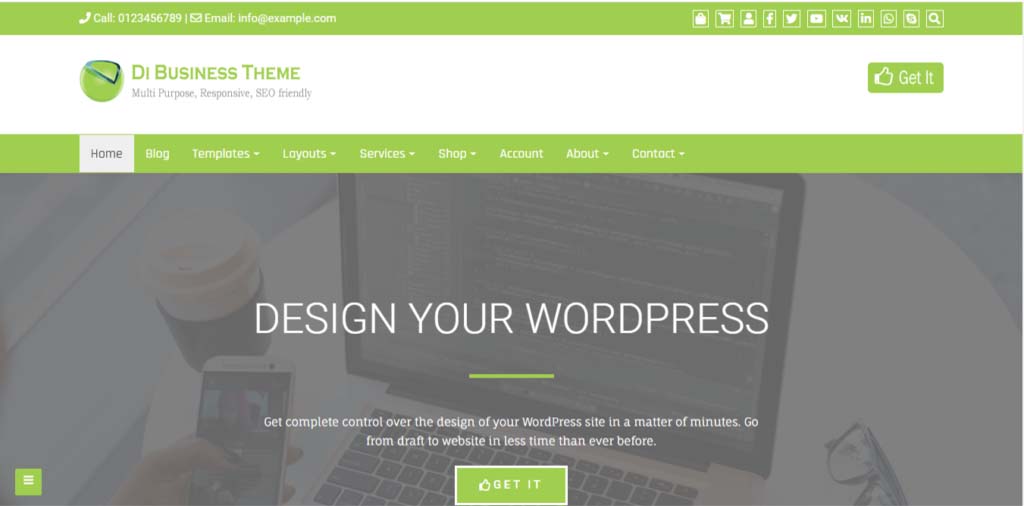 Di Business WordPress Theme is another free WordPress theme from Di Themes which is a perfect choice for the people who want to build an online presence for their business. Freelancers, Agencies, and startups can take benefits of the unmatched features of Di Business WordPress Themes. It is completely responsive and offers outmatching features in comparison to those of some premium WordPress themes.
Di Business WordPress Theme is completely responsive, SEO friendly and mobile-first optimized. The authors of this free WordPress theme provide regular updates and unmatched support. It has complete support for WordPress page builders and also supports 1 click import of starter sites. This free WordPress among some of the best constructed free WordPress themes.
If you want a theme that supports the customized header and footer via drag and drops components, Neve is the perfect choice for you. It is fast and fully customization which enables you to enjoy the fully customized web layouts. This free WordPress theme comes with support for all of the WordPress page builders. Its AMP compatibility makes your website completely optimized for mobile devices.
With its growing collection of 80+ free ready to import starter websites, you can build your website easily. Also, the features like translation ready, SEO friendly markup, fast on-boarding, 1 click rollback, and accessibility-ready make your website stand out.
This is a modern material design theme. Hestia's free WordPress theme is easy to set up and offers tons of features for a free multipurpose WordPress theme. It has some of the top-notch features like uncompromising speed, page builder compatibility, and WooCommerce design ready. It also gives you complete control of your website within the WordPress customize. Furthermore, its mega menus features ensure the proper management of the menu content.
Furthermore, the Video tutorials from the publisher give you more sense of control over your website. Therefore, if you need any guidance in setting up your website with this WordPress theme, you can always turn up to these video tutorials.
The features like responsive design, retina-ready, WordPress customize support, plugin support, WooCommerce ready, Font Awesome icons and many more, makes it a perfect choice for any kind of small website. Hence Shapely is a completely versatile free one page WordPress theme. As a result, this free one page WordPress theme offers outstanding functionality.
Shapely also provides complete support for the plugins like Gravity Forms, Contact Form 7, Yoast SEO, WooCommerce and have been structured well. Hence this free WordPress theme is best suitable for websites like business, landing page, single-page website, portfolio, and blogs.
Colibri WP is another beautiful multipurpose free WordPress theme that you can use to design an elegant looking website. It features a lot of customization options like video backgrounds, slideshow backgrounds, header content and many more.
Colibri WP comes with ready made homepage, more than 35 ready made content blocks and 5 header designs. You can easily customize these with Colibri WP. This free WordPress theme even gives you the ability to create new blocks by utilizing these existing content blocks. This is a very good choice for those who want to launch their website in no time.
Ocean WP is a free multipurpose WordPress theme that became famous quickly and is still on the charts for being one of the best free multipurpose WordPress themes. It is completely optimized for speed and SEO which makes it live to the hype. With Ocean WP, you can easily choose from several ready made websites and get started in no time. Once you have imported a demo website, you can edit it without touching a single line of code.
Responsive design, Fast Page Load Time, WooCommerce Ready, SEO Optimized, Translation & Right To Left Ready and Awesome Support are few of the major features to choose this multipurpose WordPress theme.
If you have an eCommerce website, Ocean WP has got some inbuilt features to scale your website without installing any extra plugins. The features like Native Cart Popup, Floating add to cart bar, Off Canvas Filter and Quick View, have been designed with considering the latest digital marketing trends. Ocean WP also comes with page builder support, so you don't have to touch the code to design your website. It is compatible with all of the major page builder plugins available online.
Generate Press is a lightweight theme which is focused on speed and usability. Generate Press authors have focused on performance while building this theme. As a result a fresh install of Generate Press costs less than 15kb to your page size. This theme has taken the full advantage of Gutenberg, that gives you complete control over creating the content for your website. Page builder compatibility is also included with theme which enables you to use all of the famous page builders like Elementor, Beaver Builder etc. Thanks to its focus on following WordPress coding guidelines, it is completely compatible with all the well-coded plugins, including WooCommerce. Generate Press uses valid HTML/CSS and is completely translation and RTL ready. You can translate it into 25+ languages. While it has many features, few of them include micro-data integration, widget areas, sidebar layouts, drop down menus etc.
Its a clean & modern-looking free WooCommerce theme for WordPress. As the name suggest you can easily launch an online ecommerce store with this theme. It has support for all the major page builders like Elementor, Beaver Builder, Visual Composer etc. Also it has some of the great features like responsiveness, fast loading speed, SEO friendliness, Translation and Right To Left ready.
No doubt Storefront is a perfect theme for your next WooCommerce store project. Its designed & developed by the WooCommerce Core developers. Seamless WooCommerce integration into the core of this free WordPress theme. In addition to that it also support many of the most popular WooCommerce extension plugins. The coolest thing is that it has several layout & color options to personalize your online store, also it has multiple widget areas, a cool looking responsive design and much more. Most of the developers will love its lean code-base making it easy to extend. If you are looking for a WooCommerce theme, it is the perfect choice!
A clean, modern-looking, fast & responsive News Magazine free WordPress theme. Newsup is completely widgets compatible, so the users will be able to manage the content by using the widgets. It is suitable for all the dynamic news, magazine, blogs, & gaming magazines or review sites and any other creative publishing website. Newsup is fully SEO friendly, Multilingual, Gutenberg, translation and Right To Left ready.
A powerful business WordPress theme that provides a fast loading website design experience for businesses or web designers to create an awesome online presence. The major feature of Sydney free WordPress theme is that it is fully compatible with Elementor. It also brings plenty of other customization features such as Google Fonts, color control, custom logo upload, custom header image, sticky navigation, full screen slider & many more features. Also, it makes it easy to create an engaging front page by providing all the construction blocks you need.
Astra is by far the fastest and completely SEO friendly multipurpose WordPress theme. It is fully customizable theme which can be used for any kind of website. It doesn't matter if you wish to create a website for blog, personal portfolio, corporate or an online store or anything else, Astra is the perfect choice.
One feature that makes Astra stands out is that it is very lightweight with the size of less than 50kb on front end. In addition to that Astra comes with Schema.org code integrated in its core and provides Native AMP support so the search engines optimization will be an easy task.
With enhanced support for all of the page builders it offers ready made sites as well. You can even launch an ecommerce store easily without much hassle.
A completely fast, flexible and lightweight free WordPress multipurpose theme; Zakra comes with so many features that can help you build a beautiful website in no time. Most important feature of Zakra is that it comes with many starter sites which can be used by you to create a beautiful and professional looking website.
Zakra is compatible with the most page builders like Elementor or Beaver Builder. Also, it is SEO friendly, translation compatible and supports other major WordPress plugins.
TimesNews Magazine theme is an amazing free WordPress theme for blog, magazine or news websites. You can easily build professional websites for blogging, magazine or news agencies. It also includes all other features like responsiveness, cross-browser compatibility, SEO ready & right to left support. Responsive slider impresses the visits with lively eye-catching images right on your banner section.
Futurio is a completely lightweight, fast & customizable free multipurpose WordPress theme, suitable for business, portfolio, photography sites, eCommerce store, blogs etc. It works well with all the page builders, like Elementor, Beaver Builder or Gutenberg. It also supports almost all free & premium WordPress plugins. Futurio is completely responsive, SEO compatible, multilingual support, translation and Right To Left ready. The most important features of this theme are that it offers custom header & footer, free starter sites, custom widgets etc.